Armenia National SDG Innovation Lab and Institute of Public Policy today launched the "Edu2Work" project to help individuals make more informed career choices and be better prepared to enter the labor market. This project is funded with UK aid from the British people.
Edu2Work is designed in response to rapidly changing workplace and continuous mismatch between the labor market demand and supply in Armenia. Some sectors of the economy are always experiencing lack of qualified workforce, while others have an abundancy of supply. According
to the 2018 

report

 by Save the Children

, only 53.7% of young workers are in occupations that match their level of education compared to workers who are either overqualified (33.6%) or underqualified (12.7 %) for the work they are doing. 
According to the same report, in Armenia, four out of 10 people aged 18-30 are considered part of the inactive labour force. Although some students do acquire professions in demand, yet they exit universities without tangible soft skills to help them translate their education into employment.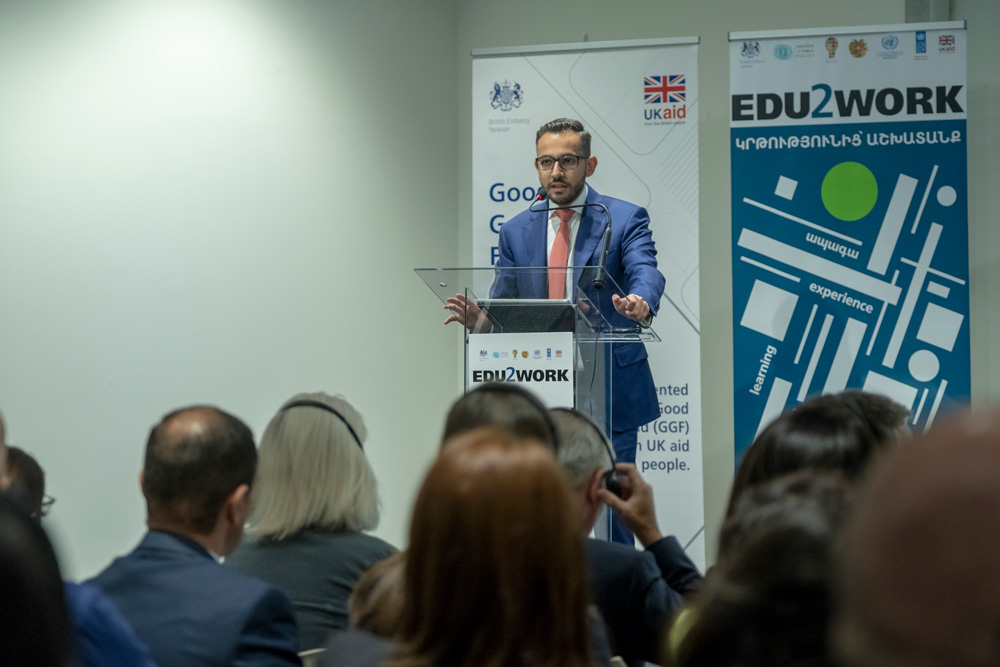 "Almost every state faces the challenges of unemployment, and currently, it is increasingly difficult to address them by using traditional approaches. This situation is mainly conditioned by the fast-changing trends of the world" mentioned Deputy Prime Minister Tigran Avinyan. "In Edu2Work project, I give high importance to the mapping of work tendencies and future of work with the use of artificial intelligence, which can become a basis for the policy development in the field of education."
UK Ambassador Judith Farnworth said: "It is crucial for Armenia's future economic growth to have not only a skilled and educated workforce but a workforce with the right education and skills. Individuals need a clear pathway through education into work, which is both personally and financially rewarding."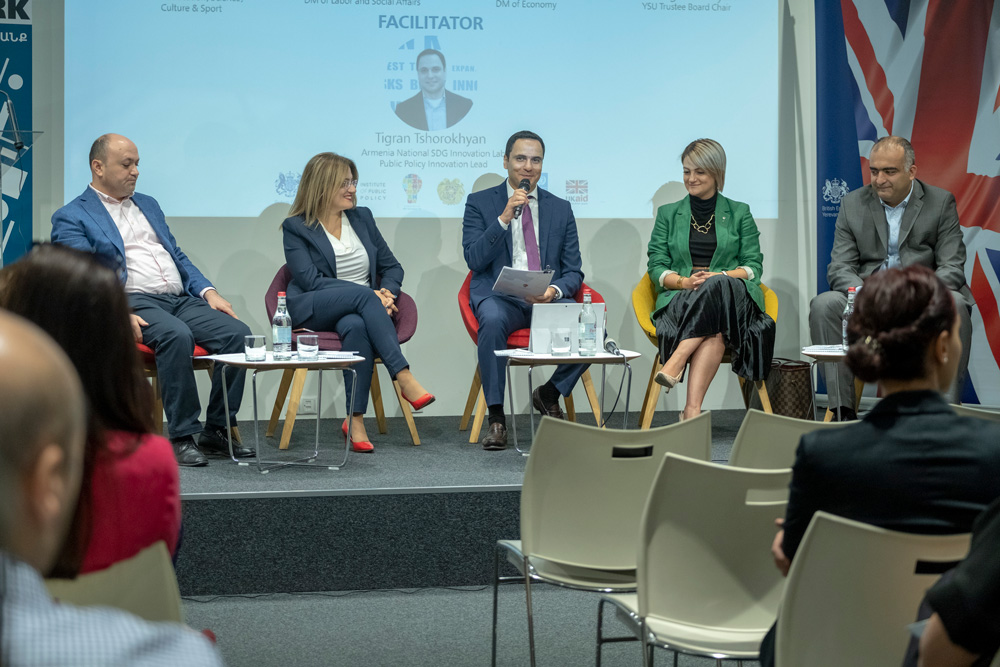 "Edu2Work was designed to bridge the gap between education and labor market through data-driven and human-centered policies which will eventually lead to reskilling and upskilling opportunities, more people in employment and higher economic growth in the country," Stepan Margaryan, the SDG Lab Lead, said during his presentation. 
The project has three main components: data innovation and analysis of the Armenian labor market, design of experimental interventions together with UK partners, and development of actionable policy recommendations. 
To further explore the topic of the gap between the education system and labor market, a panel discussion took place with the participation of Arevik Anapiosyan, Deputy Minister of Education, Science, Culture and Sport, Naira Margaryan, Deputy Minister of Economy, and Arman Udumyan, Deputy Minister of Labor and Social Affairs. 
Edu2Work project is implemented by the Institute of Public Policy in partnership with the Armenia National SDG Innovation Lab․